Filters for Order
---
Filters for Order
Custom Term
With DataChamp you can search for Shopify Custom Terms
This function allows you search as in the search bar of Shopify. This special search allows to filter for further content. For example you can search for orders including products (SKUs, product names) in the order.
Use the custom term as in this example:
The output for this example will be:
only unfulfilled orders
only orders including order lines with product SKUs "SKU4711" or "SKU1314"
Date placeholders in filters
You can add filters using date placeholders.
This is an example of a filter for orders: Export only orders with "Tag" "equals to any of" "%m/%d/%Y":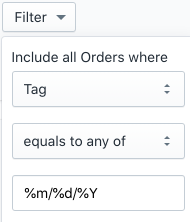 "%m/%d/%Y" will be converted to today - like "10/05/2020" - and only orders having this "Tag" will be exported.