Filters¶
Overview¶
Filters allow you to customize the data that is exported in your Excel or CSV files.
Depending on the field type you can choose from different filter options:
Date fields
after (a date)
before (a date)
between (two date values)
current
is empty
last (# of days)
on (given date)
Char fields (eg email, name, ...)
equals to any of
not equal to any of
is empty
is not empty
starts with
Special fields
eg "Risk Level " will allow to choose from "High", "Low" and "Medium"
Number fields
eg "Customers" - "Orders count"
Adding and editing filters¶
Add filters and edit them as you need them:
Filters for Order¶
Custom Term¶
With DataChamp you can search for Shopify Custom Terms
This function allows you search as in the search bar of Shopify. This special search allows to filter for further content. For example you can search for orders including products (SKUs, product names) in the order.
Use the custom term as in this example:
The output for this example will be: * only unfulfilled orders * only orders including order lines with product SKUs "SKU4711" or "SKU1314"
Date placeholders in filters¶
You can add filters using date placeholders.
This is an example of a filter for orders: Export only orders with "Tag" "equals to any of" "%m/%d/%Y":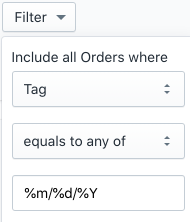 "%m/%d/%Y" will be converted to today - like "10/05/2020" - and only orders having this "Tag" will be exported.
Filters for Products¶
Standard filters for product¶
Barcode
Created at
Is a gift card
Inventory total
Out of stock somewhere
Product type
Published status
SKU
Tag
Title
Updated at
Vendor
Cart token
Chargeback status
Custom term filter¶
Use the "Custom term" to filter these fields of the product details: - Description - Variant Title - Vendor
You can test the result of your filter directly in Shopify: