October 2021 Updates¶
---
Happy October 2021! DataChamp is evolving. We are back with another big update to DataChamp. Read more here:
Big increase in performance¶
Reports with many lines can now be generated in minutes. This is a huge performance boost made possible by our development team by rewriting the Shopify data connector!
Filter "Is Fulfillable"¶
Use the new filter "Is Fulfillable" to get all orders that are fulfillable by actual stock. DataChamp is calculating the stock incoporating other orders or independent of other orders: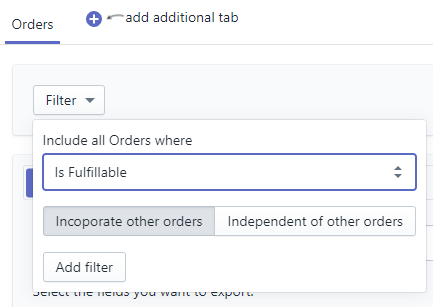 New available fields¶
Order

Manual discount application

Order line item

Current quantity: The line item's quantity minus the removed quantity)
Fulfillable Quantity:(The total number of units to fulfill)
Image URLs
Total tip
New available filters¶
SKU filter
Product type
Current quantity
Fulfillable quantity
Fulfillment status (unfulfilled, partial, fulfilled)
Please give these new features a try and let us know what you think. If you have any questions, please do not hesitate to reply to this email.